Cormorants Waiting For Fish
Notes: The birds lined up in this picture are cormorants, a fish-eating sea bird. At one time, they were used by various North American natives as fishing tools. After tying long lines to the birds' feet and putting a small hoop around the birds' neck, they would let the birds go get fish. Since the birds couldn't swallow the fish, the natives would pull the birds in using the lines to collect the fish and then release the cormorants again to get more.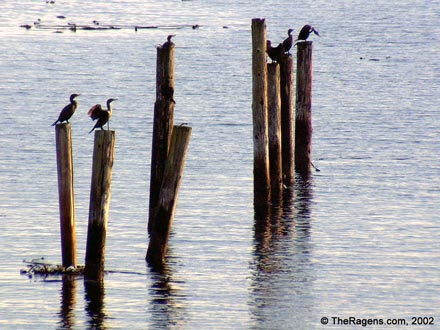 Cormorant Photos From TheRagens.com. Picture taken in November 2002.
If you want to reuse our pictures, please review our usage policy.
Return to TheRagens Photos Home Page