Bufflehead Duck Photos
(Bucephala Albeola)
Bufflehead ducks are numerous in western waterways. The day we took this picture on San Juan Island, there were two separate flocks that had moved south for the winter. There were probably 50-60 birds that were skipping from one part of this inlet to the other. They seemed to fly as groups which meant that it was easy getting them lined up when they moved. We got this particular bufflehead duck photo as the bird was skimming in for a water landing - note the splash as its feet touchdown on the water. Note that the head of a sea otter is barely visible in the upper right hand corner of this photo.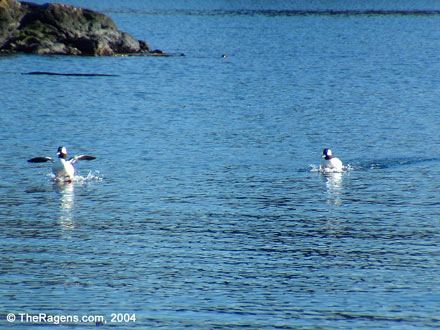 Bufflehead Duck Photos From TheRagens.com. Picture taken in November 2002.
If you want to reuse our pictures, please review our usage policy.