Site Contents
Wine Tastings
- Washington Reds
- Piedmont Reds
- Survey
Wine Books
- Appreciation Books
- Wine Tasting
- Winemaking
- Grape Growing
Book Awards
- Decanter Booklist
- Glenfiddich Award
- James Beard Award


Affiliate Sites
Sunbreak Wine Cellars (aka Matt's Folly)
I've organized this description of our home vineyard in the hopes that our journey into home winemaking may be interesting for other people who might be looking to start their own vineyards. This is a living document and will be changed periodically as we have updates that are relevant.
| | |
| --- | --- |
| | Introduction - The Vineyard Next Door. Our goals and objectives for our backyard vineyard. |
| | Le Goût du Terroir. Our terroir -- the available land we plan to use. |
| | Shifting The Landscape. Six years before we even thought about a vineyard, our backyard started to evolve. |
| | Thinking of the Fruit of the Vine. From the germ of idea to our first research into our options, here's what we learned about possibilities for a home vineyard in Seattle. |
| | Planning, Planning, Not Yet Planting. As we continued our planning, we sunk much deeper into the details of planning. |
| | Time For Planting. We got the vines! Read about our planting and first year of growing. We are currently still in the middle of this year and will be updating this section periodically. |
| | The First Year. After planting, things got a bit hectic as we (and our neighbors) all watched the vines grow, struggle, and grow yet again. |
| | The Second Year. The vines made it through the first summer and winter. This year, we're watching for solid growth as the vines continue to establish their roots. |
| | References. Here are the resources that we relied on for research. |
In late spring of 2000, I started to dream of the next major landscaping project that I wanted to work on. Over the previous eight years, we had invested much time to return our backyard to a reasonably civilized condition. Over the same time period, my wife and I had come to increasingly enjoy wine. The combination of these two interests led me to investigate whether it was possible to grow winegrapes in Seattle and, ultimately, to see if we could try a little home winemaking.
My investigation started out as an idle thought. Eastern Washington was the source of grapes for all of the wineries that I knew of in the Seattle area including: Chateau St. Michelle, Columbia Winery, DeLille Cellars, Matthews Cellars, Betz Family Cellars and even the winery in our neighborhood, Wilridge Winery. However, we have a family friend that had planted a small one-acre vineyard on the San Juan Islands so we knew that there were people who were trying to grow grapes in the Puget Sound area. We just didn't know anyone who was successful.
With this goal in mind, it was time to learn more about what this adventure might require. I started to read about winemaking – first buying several books – just to see what was possible in a home vineyard and winery. The key was to figure out if it really was possible to make wine worth drinking as a home winemaker. And, for all intents, it looked like it was possible to do so without, at least, being completely embarrassed.
Through the creation of our vineyard, we relied on three books: From Vines to Wines gave us the incentive and basic information; The Grape Grower is a great book on planting as well as pest management and fertilizers; and Oregon Viticulture offers the most in-depth knowledge of managing the vineyard.
At the same time, I also started to look around for local resources in order to find out what was involved in planting a home vineyard. I discovered that there is a Puget Sound AVA or American Viticultural Area – just like there is a Napa Valley AVA and a Walla Walla AVA. There are more commercial wineries and vineyards in Puget Sound than I expected: Bainbridge Winery, Whidbey Winery, San Juan Winery, Lopez Winery, and more.
In short, as I completed my research, I came to believe that this vineyard project was feasible on a small hobbyist scale and that we have the potential to grow enough grapes to be able to make a few cases of wine each year.
Since I decided to go forward with this, I needed a working name for our vineyard project. After a bit of brainstorming and a bit of cabernet, we decided to call our vineyard project "Sunbreak Cellars". This actually has multiple references for us:
| | |
| --- | --- |
| | Sunbreak refers to the way that the summer sun breaks through the Cascade Mountains on our eastern horizon at dawn. |
| | Sunbreak can also refer to the bright orb in the sky that, tongue-in-cheek, we Seattleites see for brief flashes in the winter through breaks in the cloud. |
I checked the Internet for references to Sunbreak Cellars or, alternatively, Sun Break Cellars) and found no mention of the name. I also searched through the US database of trademarks and found no mention either. So, we're free and clear to use the name as far as I can tell! (Anyway, in spite of the formal name, my wife's pet name for this venture is Matt's Folly as many of our friends thought that my brains had been scrambled...)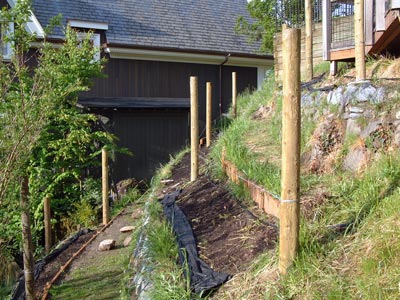 This picture shows the line across the rows in our vineyard.
Next to Part 2 - Le Goût du Terroir
Check out some of our photos that we took as we established our vineyard.