Site Contents
Wine Tastings
- Washington Reds
- Piedmont Reds
- Survey
Wine Books
- Appreciation Books
- Wine Tasting
- Winemaking
- Grape Growing
Book Awards
- Decanter Booklist
- Glenfiddich Award
- James Beard Award


Affiliate Sites
Wine Tasting - Red Wines of Piedmont
In January, we held the second of what we expect will be an ongoing series of wine tastings. We started with a small group of just six couples interested in wine but with varying levels of wine knowledge -- it was more important that we would have fun that really be able to identify the wines. The group was formed with the following guidelines:
We will have a blind tasting and casual dinner roughly every other month so that we rotate through the entire group once a year. The host couple may, at their discretion, invite more people to join the fun. The evening's host selects the theme for the evening such as: "Napa Cabernet under $50", "Single vineyard Pinot Noir from Oregon", "'Second wines' of Bordeaux", "Australian Shiraz over $30", or whatever. Each couple brings one bottle that fits the theme. The labels are hidden with paper bags so that this becomes a blind tasting. Everyone tastes each wine before dinner and selects their top three wines so we can have a consensus favorite. At dinner, we can finish the tasting wines or raid the host's cellar assuming, of course, that the host consents. And we should have fun doing this.

Two books that we've used to guide our efforts are:
In our second gathering, we dug into the mysteries of red wines of Piedmont. The wines were opened roughly thirty minutes before tasting and were not decanted. The wines were tasted blind. We gave each member of the party a simple scorecard so that they could make notes on what they thought of each wine. We also asked everyone to list their #1 favorite, their #2 favorite, and their #3 favorite. The table below lists the wines in order of the consensus favorites. This was a fairly consistent tasting as two clear favorites were clearly separated from the rest.
Winery
Vintage
#1
#2
#3
Total
Parker
Comments
Prunotto Barolo Bussia Soprana
1996
4
2
1
17
92
Smooth, complex wine that is fruity and soft yet with tannins. It holds to a long finish.
Gaja Langhe Sperss
1997
3
3
1
16
99
Complex wine characterized as smooth, elegant, rich with notes of chocolate. Well integrated tannins didn't overwhelm the wine. One of us noted: "Better than a Dolcetto"
Alfredo e Giovanni Roagna Barolo La Rocca e La Pira
1993
1
2
7
Older wine, brownish tinge on the edge of the glass. Nice floral nose with tastes of cloves and raspberry
Luciano Sandrone Langhe Premo
1999
2
1
5
Fruity with strong notes of cherries noted by almost everyone.
Fairly low in tannins, this wine had a medium-long finish.
Icardi Suri di Mu Barbera
1997
1
1
4
86
Seemed more alcoholic. Thinner than the others. Low in tannins.
Bruno Rocca Dolcetto Vigna Trifole
1999
1
1
Nose was a bit musty with notes of toffee and caramel. Hints of licorice noted by most of us. Finishes well
Massolino Barolo "Margheria"
1996
1
1
89
Spicy, red peppers. A bit on the woody side.
The consensus ranking was determined by 3 points for each #1 listing, 2 points for #2, and 1 point for #3. Any ties are broken by the number of #1 votes, etc.
There are four red wines commonly made in Piedmont. So, to test people perceptions, we also asked everyone to guess the variety of each wine. As most of us had little experience with the wines of Piedmont so, as a guide, we included brief descriptions of each wine type on the scorecard that I compiled from Jancis Robinson's The Oxford Companion to Wine. It is also important to note that in recent years, some wines made outside of the Italian DOC rules have been made and are referred to as Langhe - we had two of these wines in our tasting. The correct number guesses are marked in bold red font in the table.
Winery

Guesses for wine types

Barolo
Barbaresco
Barbera
Dolcetto
Langhe
Luciano Sandrone Langhe Premo
1
2
1
Gaja Langhe Sperss
4
1
Icardi Suri di Mu Barbera
5
Bruno Rocca Dolcetto Vigna Trifole
2
1
4
Massolino Barolo "Margheria"
3
1
Alfredo e Giovanni Roagna Barolo La Rocca e La Pira
4
1
Prunotto Barolo Bussia Soprana
2
1
1
For the two Langhes from Gaja and Sandrone, it is hard not to give credit to the guesses to Barolo since the Nebbiolo grape forms such a significant part of the actual wine...
Following the tasting, we sat down to dinner with the remaining wine from the tasting. The dinner was coordinated around a somewhat traditional cuisine of Northern Italy in order to complement the wines. In addition to the wines from the tasting, we also opened a 1996 Stefano Farino Barbaresco from our cellar.
Dinner Menu
Antipasto: Roasted peppers, tomato eggplant mozzarella, tostini with olives
Zuppa: Pappa al pomodoro (tomato bread soup)
Pasta: Pappardelle with portobello and chanterelle mushrooms
Secondi
Veal ala rosmarino
Brocoletti al'olio e lemone
Gnocchi alla crema e parmesano
Green beans with roasted chestnuts
Dessert: Amareto di bella luna
Next tasting - Mature cabernet sauvignon from California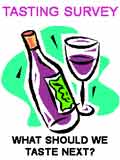 Click here to give us some ideas!
Other Wine Tastings