Site Contents
Wine Tastings
- Washington Reds
- Piedmont Reds
- Survey
Wine Books
- Appreciation Books
- Wine Tasting
- Winemaking
- Grape Growing
Book Awards
- Decanter Booklist
- Glenfiddich Award
- James Beard Award


Affiliate Sites
Wine Tasting - South American Reds
In November of 2002, we held our fifth tasting in an ongoing series of wine tasting parties. We started with a small group of six couples interested in wine but with varying levels of wine knowledge. The group was formed with the following guidelines:
We will have a blind tasting and casual dinner roughly every other month so that we rotate through the entire group once a year. The host couple may, at their discretion, invite more people to join the fun. The evening's host selects the theme for the evening such as: "Napa Cabernet under $50", "Single vineyard Pinot Noir from Oregon", "'Second wines' of Bordeaux", "Australian Shiraz over $30", or whatever. Each couple brings one bottle that fits the theme. The labels are hidden with paper bags so that this becomes a blind tasting. Everyone tastes each wine before dinner and selects their top three wines so we can have a consensus favorite. At dinner, we can finish the tasting wines or raid the host's cellar assuming, of course, that the host consents. And we should have fun doing this.

Two books that we've used to guide our efforts are:
In our fifth tasting, we tasted red wines from the South American continent. The bottles were opened roughly thirty minutes before tasting and were not decanted. The wines were tasted blind, in brown paper bags. We modified our scorecard and tasting sheet from the ones that we have used in previous tastings to become somewhat more organized in the way that we evaluated and ranked the wines. (The scorecard we used was modified from some examples that I found on the web.) The tasting sheet retained a section for notes that would help our tasters identify the wines. The table below lists the wines in order of the consensus favorites.
| | | | | | |
| --- | --- | --- | --- | --- | --- |
| Winery | Varietal | Vintage | Modified | WS | Comments |
| Ben Marco | Malbec | 1999 | 88 | | Port-like, very concentrated with good balance; some notes of blackberries. |
| Bodega San Pedro de Yacochuya | Malbec | 1999 | 88 | 90 | Very dark purple, almost black in color. Full-flavored with notes of plums. |
| Tikal | | 2000 | 84 | | Dark purple in color with cherry, plum, and freisia flavors. Maybe a little musty but good balance. |
| Montes Alpha | Syrah | 2000 | 84 | | Earthy but with good balance. |
| Crios | | 2000 | 83 | | Fruity, strong flavor with some notes of berry and tobacco |
| Chateau Camou | | 1998 | 78 | | Fruity but weak with nothing to recommend it. Smelled like fish? |
| Walnut Crest | Merlot | 2000 | 73 | | Smokey with olives and peppers. Tasted flat. "Is this really wine?" |
| Los Vascos | | 2000 | 71 | | Herbaceous with green olives. Like "lighter fluid". |
Scoring methodology: Each bottle of wine was given 50 points for simply being in a bottle (ie, commercially available and not in a box) and then the score was multiplied by 2.5. This results in a 100 point scale. The average score included all the results from all of the tasting sheets that had at least four rows filled in. As this was the first time that we used this kind of scoresheet, some of the scores differed greatly. So, the final score shown above deleted the two worst scores from the average.
This was a tough group of wines to evaluate; one suspects that there isn't much choice in South American reds and no one has cellared these wines in our group. Interestingly, the two favorites ended in a virtual dead heat and they were both 1999 Malbecs from Argentina -- the Ben Marco and the Yacochuya. The consensus nod went to the Ben Marco for favorite wine based on the overall buzz from the group. As one person wrote after tasting the Ben Marco: "Thank god for this wine tonight." Some of the other wines did not fare as well...
Following the tasting, we sat down to dinner with the remaining wine from the tasting. Our menu for this evening was:
| | |
| --- | --- |
| | Chilled asparagus soup garnished with avocado and tomatoes |
| | Sliced macrina breads with butter |
| | Chicken breast filled with chevre and porcini mushrooms with ancho chile cream sauce |
| | Sauteed spinach |
| | Toasted greens with shaved Manchego cheese and caramelized hazelnuts with a sherry-shallot vinaigrette |
| | Panna cotta with berry sauce |
Next tasting - Red Wines of Washington State! Check back in early April 2003 for the tasting notes.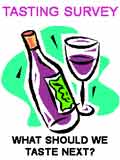 Click here to give us some ideas!
Other Wine Tastings