Site Contents
Wine Tastings
- Washington Reds
- Piedmont Reds
- Survey
Wine Books
- Appreciation Books
- Wine Tasting
- Winemaking
- Grape Growing
Book Awards
- Decanter Booklist
- Glenfiddich Award
- James Beard Award


Affiliate Sites
Wine Tasting - Great Washington State Reds
In March of 2003, we held the sixth of an ongoing series of wine tasting events. We started with a small group of just six couples interested in wine but with varying levels of wine knowledge -- it was more important that we would have fun that really be able to identify the wines. The group was formed with the following guidelines:
We will have a blind tasting and casual dinner roughly every other month so that we rotate through the entire group once a year. The host couple may, at their discretion, invite more people to join the fun. The evening's host selects the theme for the evening such as: "Napa Cabernet under $50", "Single vineyard Pinot Noir from Oregon", "'Second wines' of Bordeaux", "Australian Shiraz over $30", or whatever. Each couple brings one bottle that fits the theme. The labels are hidden with paper bags so that this becomes a blind tasting. Everyone tastes each wine before dinner and selects their top three wines so we can have a consensus favorite. At dinner, we can finish the tasting wines or raid the host's cellar assuming, of course, that the host consents. And we should have fun doing this.
In this gathering, our host chose red wines of Washington State as the overall theme. Given that we live in Seattle, this gave us a bunch of choices. Washington State has historically been dominated by two grapes (cabernet sauvignon and merlot) that make the majority of red wines on the eastern part of the state although, in the last five years, a huge amount of syrah has been planted. Indeed our wines for this tasting were almost all cabernets, or wines dominated by cabernet, in addition to a couple of bottles of syrah.
The wines were opened roughly thirty minutes before tasting and were not decanted. The wines were tasted blind. We gave each member of the party a scorecard so that they could make notes on what they thought of each wine. Our scorecard will be simplified for the next tasting; although I really like this format, it was clear from the partial notes on the completed forms that I collected that it was probably a bit too complex for most people to follow.
After the tasting, we also asked everyone to list their favorites. The table below lists the wines in order of the consensus favorites. This was a fairly consistent set of results as four bottles received 85% of the votes for favorites.
Winery
Varietal
Vintage
Favorite
'Mentions'
Scores
Consensus Comments
Betz Family Cellars
'Pere de Familie'
Cabernet
2000
10
91 (Tanzer)
Best of tasting, consensus favorite. Good balance, long finish. Opened up and got more complex with time.
Cayuse Vineyards
'Walla Walla Cuvee'
Syrah
1998
7
92 (Wine Spectator)
Lots of berries and fruit in this wine with a little bit of pepper and spice. Long finish.
Leonetti
Cabernet
1995
5
89 (Wine Advocate)
Lively wine, with lots of acidity and tannins. It's owners, unabashedly, were nearly orgasmic.
L'Ecole 41
Cabernet
1999
5
92 (Wine Spectator)
Another classic wine, well, balanced. Probably one of the best values of the tasting.
Andrew Will
'Ciel de Cheval'
Cabernet
2000
2
Classic, elegant with balanced tannins. This was my best of tasting but the rest of the group didn't quite put it there.
Grgich Hills
Cabernet
1992
2
Chewy, fruity wine with some spice. Right at its peak. For me, tied as best of tasting.
Quilceda Creek
Cabernet
1999
1
97 (Wine Advocate)
There was something bland about this wine. With one exception, it never clicked with the group. This one may have been corked.
Pepper Bridge
Cabernet
2000
1
Lots of fruit and berries, even a bit jammy.
Betz Family Cellars
'Pere de Familie'
Cabernet
2000
91 (Tanzer)
Same as the winner but it didn't garner a single vote. Either everyone lumped their votes with the winner or palate fatigue had set in since this was the last of eleven wines.
DeLille Cellars
'Chaleur Estate'
Meritage
1992
90 (Parker)
Very smooth, classic but probably a bit past its prime as it was no longer fruit-forward.
Spring Valley
'Gina Lee'
Syrah
2000
90 (Wine Spectator)
Finish was of 'eau de bubble gum'. Seriously, we believe that this one was corked too.
Overall, in a bit of a surprise, Betz Family Winery came out on top. Although I didn't bring the Betz, it has been a wine that I've enjoyed ever since I volunteered one day to bottle wines and found myself putting capsules on the Clos de Betz. We've been buying a case or so every year since. In terms of the tasting, it was the fourth wine we tasted and so it may have benefited from being the first classic wine we tasted and before people's palates became jaded. Although a bit of surprise, the Cayuse Vineyards syrah also scored very well -- perhaps because it was fruity and lively. The Leonetti also showed well.
Following the tasting, we sat down to dinner with the remaining wine from the tasting. The dinner was coordinated to complement the red wines.
Dinner Menu
Appetizers, served with champagne or white wine:

| | |
| --- | --- |
| | Crostini with roasted apples |
| | Roasted mushrooms filled with crab |

Soup: Cream of Asparagus
Main Course

| | |
| --- | --- |
| | Rack of lamb |
| | Mixed green vegetables |

Dessert: Apple pie
Next tasting - Several couples are arm wrestling to host the next one. Stay tuned.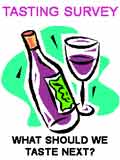 Click here to give us some ideas!
Other Wine Tastings