Site Contents
Wine Tastings
- Washington Reds
- Piedmont Reds
- Survey
Wine Books
- Appreciation Books
- Wine Tasting
- Winemaking
- Grape Growing
Book Awards
- Decanter Booklist
- Glenfiddich Award
- James Beard Award


Affiliate Sites
Sunbreak Cellars - Vineyard Pictures
In Year 2 of our vineyard, the vines showed something completely different. While in Year 1, the excitement was all about growth, this year the vines started to show more maturity as we saw the first flower clusters start to arrive. This series of vineyard pictures shows the progress made through the year.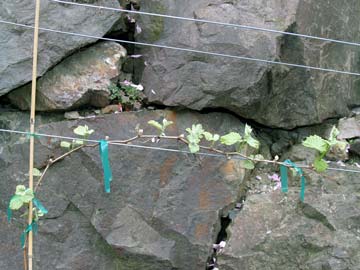 Budbreak came early in Seattle in 2004 -- according to reports from the commercial vineyards in Puget Sound, budbreak in early April was about 2-3 weeks earlier than in any year. This photograph shows one of our year-old canes tied to the fruiting wire, together with the first leaf growth from the buds.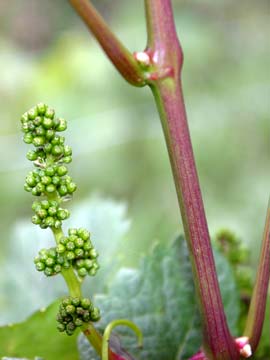 About 4-6 weeks after budbreak, at the end of May, after the new shoots had started to grow from the cane, I noticed the flower clusters on the vines. Almost every new shoot had one of these clusters associated with it. Sadly, as this was still only the second year of vine growth, I pulled almost all of these clusters as I wanted to tradeoff any fruit for more rapid development of the vine and the root system. I left just a few clusters (and only on the most robust vines) just to see how they would develop through the year.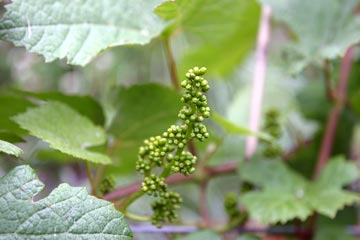 This is another flower cluster. If you look closely, you can see the blurred blobs just to the bottom left and right from three more of these clusters. Just think, each of these little flowers will turn into a grape which will turn into a few drops of wine...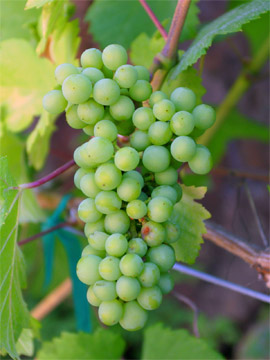 By the end of July, the grape clusters had filled out and had reached their full size. The individual grapes were still like green pebbles - hard and unripe. We'd have to wait a few more weeks until veraison before they would start to change color and soften up.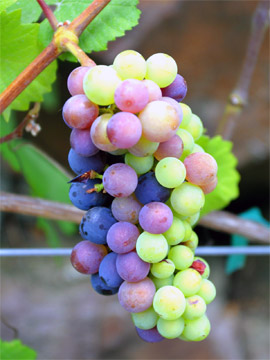 By mid-August, veraison had started. Veraison is the time when the grapes start to change color and soften as part of the ripening process. The picture here shows a cluster that is in the process of changing color -- some grapes are still green, some are pink, and some are a deep blue. From this point forward, the sugars start to really increase and the acids drop. Most books say that the grapes need another 45-60 days until they are fully ripe.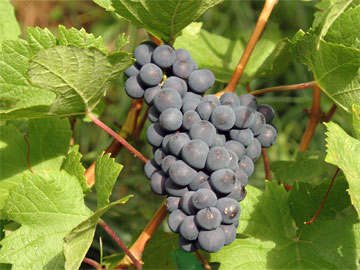 Just a week later, the clusters had pretty much completely turned color. There is some natural variation in the ripening time based on the amount of exposure to the sun each cluster gets as well as the overall maturity of the vine. Since our vines are so young, there was considerable variability.
Pictures of our vineyard include: